To start let us go to Psalm 118:21-26
"I will praise You. For you have answered me.
And have become my salvation.
The stone which the builders rejected has become the chief cornerstone. This was the Lord's doing;
It is marvellous in our eyes.
This is the day the Lord has made;
We will rejoice and be glad in it.
Save now, I pray, O Lord;
O Lord, I pray, send now prosperity.
Blessed is he who comes in the name of the Lord"
<![if !vml]>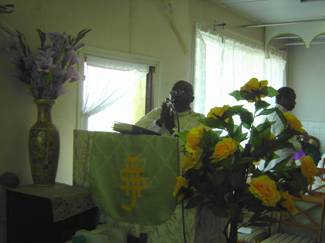 <![endif]>
Hallelujah. all of that came from the Eternal.
When it is good it comes from the Eternal, when it is bad it comes from the Eternal. If it rains, it comes from the Eternal. If we not numerous or we are very numerous it comes from the Eternal. Today, it is a day chosen by the Eternal. We are happy to be here to celebrate the holiday. And the holiday and joy come from the Eternal. You have the greetings from our father Agbaossi, our reverend and celestial worldwide chief. He sends you his greetings and his words of encouragement for the holiday to be beautiful and happy.
You could ask yourselves why we are so few . The book of Eccl. 3;1 tells us :"To everything there is a season. A time for every purpose under heaven". There is a time for everything a time for us to be numerous and it is for the Eternal to decide. There is a time to laugh and a time to cry. Last year during the predication the temple was full and that came from the Eternal.  Read Judges 7: 1-7 :
" Then Jerubbaal, who is Gideon, and all the people that were with him, rose up early, and pitched beside the well of Harod: so that the host of the Midianites were on the north side of them, by the hill of Moreh, in the valley.
¶ And the LORD said unto Gideon, The people that are with thee are too many for me to give the Midianites into their hands, lest Israel vaunt themselves against me, saying, Mine own hand hath saved me.
Now therefore go to, proclaim in the ears of the people, saying, Whosoever is fearful and afraid, let him return and depart early from mount Gilead. And there returned of the people twenty and two thousand; and there remained ten thousand.
¶ And the LORD said unto Gideon, The people are yet too many; bring them down unto the water, and I will try them for thee there: and it shall be, that of whom I say unto thee, This shall go with thee, the same shall go with thee; and of whomsoever I say unto thee, This shall not go with thee, the same shall not go.
So he brought down the people unto the water: and the LORD said unto Gideon, Every one that lappeth of the water with his tongue, as a dog lappeth, him shalt thou set by himself; likewise every one that boweth down upon his knees to drink.
And the number of them that lapped, putting their hand to their mouth, were three hundred men: but all the rest of the people bowed down upon their knees to drink water.
And the LORD said unto Gideon, By the three hundred men that lapped will I save you, and deliver the Midianites into thine hand: and let all the other people go every man unto his place."
The Eternal told Gideon Listen the people who have with you is too numerous for me. If I give you victory you will draw glory from it and say it is from your strength. They were 32000 and God said it is with 300 men that I will save you. How many came back without having to go to war. 31700. If last year we were 32000 and today 300, it is the will of God. This comes from the Eternal. Those who come to join with us today are those that God wants to use for his glory. We thank him for all his good deeds. Let us glorify him and honour him. Let us be blessed in the Lord. This is the path that God choose. He blessed it, he sanctified it, Let the blessing be a feast for us. Let everyone go back to his home filled with joy., filled with happiness and spiritual strength. Amen.
Now let us read the first quote from the book of Kings 5:4-8
"
But now the LORD my God hath given me rest on every side, so that there is neither adversary nor evil occurrent.
And, behold, I purpose to build a house unto the name of the LORD my God, as the LORD spake unto David my father, saying, Thy son, whom I will set upon thy throne in thy room, he shall build a house unto my name."
God has given some rest to King Solomon. There was no more war. all his foes had been beaten and God had wiped out his adversaries. there was peace and he could concentrate on a thing close to his heart . the building of the temple. when you have a project for which you have saved money, when problems and calamities are brought to you and you are at work and cannot do anything with those problem. Solomon has known wars, even a war against his brother and now all his foes are down. God has given him some rest he has peace and wants to build a temple to God. Let God give us peace, victory over sickness, victory over those who march against us. Let the parish of Saint Raphael have peace. Amen. Let us carry on with the reader.
" Now therefore command thou that they hew me cedar trees out of Lebanon; and my servants shall be with thy servants: and unto thee will I give hire for thy servants according to all that thou shalt appoint: for thou knowest that there is not among us any that can skill to hew timber like unto the Sidonians.
¶ And it came to pass, when Hiram heard the words of Solomon, that he rejoiced greatly, and said, Blessed be the LORD this day, which hath given unto David a wise son over this great people.
And Hiram sent to Solomon, saying, I have considered the things which thou sentest to me for: and I will do all thy desire concerning timber of cedar, and concerning timber of fir.
."
When the king of Tyr heard this words of Solomon. he was very pleased. Are we pleased when God's word is sent to us ?. Do we carry his word with a gracious heart, do we act for the glory of God or do we act to get a promotion ?
But the king of Tyr was very pleased to hear what king Solomon wanted to do. Is God happy with you ? What do you do to glorify God. Are you in your parish to help God's command to be obeyed or are you there like a log. Yes I am the father of the parish and all must kneel in front of me and worship me. Is it this that you love to do when there is peace?
Let us look at proverbs 16 1-2
" The preparations of the heart in man, and the answer of the tongue, is from the LORD.
All the ways of a man are clean in his own eyes; but the LORD weighted the spirits."
God sees what is inside us . He knows everything. he sees everything. he knows our heart. Today he calls us to act according to his will. "By mercy and truth iniquity is purged: and by the fear of the LORD men depart from evil." Prov.16:6
When everything you do is fair and right in front of the Eternal, God sees that you act according to his will, that you obey him. he even influences your enemies favourably toward you. you will not have to light 99 candles and pray for victory. you will not have to pray too much because God favours you. But do we ask ourselves if we are acting according to God's will? If you do not do that , you can pray from december 31 on, without having an answer from God because you are not just. All that you want is to wear a nice "booboo". you cannot do anything for the work of God. The Bible is just , it is complete. When the Eternal approves of us, he leads our enemies astray Even when they are one million, you still shall have victory, you shall have health and happiness. you shalll have peace.
But when you do not act, you stay like a picture on a wall, it is hopeless.
Do what is fair. The Bible teaches us to do a lot of things and we must follow those things to be at peace.
Psalms 91:1 " He that dwelleth in the secret place of the most High shall abide under the shadow of the Almighty."
To be sheltered by the almighty does not mean to stay idle but to do the will of God. You come on Sunday with your nice "booboo" and you ask the change for 10€ but you give only 5 or 10 cents for alms.
Leviticus : 26:36
"And upon them that are left alive of you I will send a faintness into their hearts in the lands of their enemies; and the sound of a shaken leaf shall chase them; and they shall flee, as fleeing from a sword; and they shall fall when none pursueth."
Proverbs 3 1-6 " My son, forget not my law; but let thine heart keep my commandments:
For length of days, and long life, and peace, shall they add to thee.
Let not mercy and truth forsake thee: bind them about thy neck; write them upon the table of thine heart:
So shalt thou find favour and good understanding in the sight of God and man.
Trust in the LORD with all thine heart; and lean not unto thine own understanding.
In all thy ways acknowledge him, and he shall direct thy paths. "
All that one says is "amen" but what one has in its heart is only known by God. When I said recently in Saint-Denis, that It often takes hours to preach, everybody is happy. Papa Sakete has preached well, but everything that has been said is soon forgotten. When you go you have forgotten everything that father Adeogun has said. My son, do not forget my teachings. Your heart is filled with the spirit of God
Ps: 119:105 "Thy word is a lamp unto my feet, and a light unto my path."
Do we know who called us? they say the CCC is rotten but what is rotten is us. The church is the church. We fight over nothing instead of glorifying the name of the Eternal. Do we think? The one who entrusted his mission to God is gone and we will leave. When? one does not know
Matthew 7:21 " Not every one that saith unto me, Lord, Lord, shall enter into the kingdom of heaven; but he that doeth the will of my Father which is in heaven."
The one who can go and take the wife of his neighbour, when her husband is not there. Bad thoughts come from us. The heart is treacherous. Jeremy 17:9-11
" The heart is deceitful above all things, and desperately wicked: who can know it?
I the LORD search the heart, I try the reins, even to give every man according to his ways, and according to the fruit of his doings.
As the partridge sitteth on eggs, and hatcheth them not; so he that getteth riches, and not by right, shall leave them in the midst of his days, and at his end shall be a fool.'
HOW IS THE HEART OF MAN?. IT IS WICKED
HOW IS THE HEART OF MAN.? IT IS WICKED
HOW IS THE HEART OF MAN.? IT IS WICKED
ALLELUYAH. LET GOD HAVE MERCY ON US.
When we speak, some say they were here when God called the prophet Oshoffa. Some say they knew the church from its beginnings. It is not quantity but quality that counts. Do we do what God asked us to do ?
Malachi 1:6-8
" A son honoureth his father, and a servant his master: if then I be a father, where is mine honour?  and if I be a master, where is my fear?  saith the LORD of hosts unto you, O priests, that despise my name.  And ye say, Wherein have we despised thy name?
Ye offer polluted bread upon mine altar; and ye say, Wherein have we polluted thee?  In that ye say, The table of the LORD is contemptible.
And if ye offer the blind for sacrifice, is it not evil?  and if ye offer the lame and sick, is it not evil?  offer it now unto thy governor; will he be pleased with thee, or accept thy person?  saith the LORD of hosts."
where is the fear of God? the high dignitaries and the low dignitaries and you the high mothers and the low mothers. we despise the name of the Eternal and we say hallelujah, we offer in sacrifice a puny animal that limps.
Malachi 2:1-2
"And now, O ye priests, this commandment is for you.
If ye will not hear, and if ye will not lay it to heart, to give glory unto my name, saith the LORD of hosts, I will even send a curse upon you, and I will curse your blessings: yea, I have cursed them already, because ye do not lay it to heart. "
If we do not take to heart to glorify God, the person who earns 10000 euros will lose his money before he gets home. you can say that the enemies of your parents or of your grandparents did it. no no. God is in them. It is because you did not glorify his name.
Malachi 1 14
"But cursed be the deceiver, which hath in his flock a male, and voweth, and sacrificeth unto the LORD a corrupt thing: for I am a great King, saith the LORD of hosts, and my name is dreadful among the heathen."
You look for a job and you come to ask the Leader in charge to pray for you. You say that if you get the job, you will pay your tithe. The Leader in charge prays for you. Once you get the job, other projects are on your mind.: your house is in disrepair, the living room has to be refurnished, your house is too small and you buy a nice car. When you come see the preacher, you give him an envelope with only 25 euros and a few bottles of milk. You ask for the chorus to sing 7 songs " Okpey okpey .. (or) dagbe de nan Klunon wa na mi "
and in your tray there are 3 boxes of candles or only 3 candles. who are you making fun of? The King of Tyr was pleased, he made a vow and kept it. When God makes you a promise he keeps it. when you make a vow to God, keep your vow. One should not make a vow if one does not intend to keep it. Let God have mercy on us.
Eccl 5 :2-5
" Be not rash with thy mouth, and let not thine heart be hasty to utter any thing before God: for God is in heaven, and thou upon earth: therefore let thy words be few.
For a dream cometh through the multitude of business; and a fool's voice is known by multitude of words.
When thou vowest a vow unto God, defer not to pay it; for he hath no pleasure in fools: pay that which thou hast vowed.
Better is it that thou shouldest not vow, than that thou shouldest vow and not pay. '
Hallelujah, let us go to the 2nd reading. When you see the lion going slowly it is not because he is afraid. I have not seen the result of what you have heard.
Act 4:32-37
" And the multitude of them that believed were of one heart and of one soul: neither said any of them that ought of the things which he possessed was his own; but they had all things common.
And with great power gave the apostles witness of the resurrection of the Lord Jesus: and great grace was upon them all.
Neither was there any among them that lacked: for as many as were possessors of lands or houses sold them, and brought the prices of the things that were sold,
And laid them down at the apostles' feet: and distribution was made unto every man according as he had need.
And Joses, who by the apostles was surnamed Barnabas, (which is, being interpreted, The son of consolation,) a Levite, and of the country of Cyprus,
Having land, sold it, and brought the money, and laid it at the apostles' feet. "
Those who have believed were united because in union there is strength. Is there union among us? do we understand each other? Is there love, we want the spirit of 1947 to come back. Do we do what Papa and the ancient ones did at that time for the spirit to show itself through us? No, now the I is the most important thing. Even tithe are wrong.
Deut 10:12
" And now, Israel, what doth the LORD thy God require of thee, but to fear the LORD thy God, to walk in all his ways, and to love him, and to serve the LORD thy God with all thy heart and with all thy soul "
Proverbs 1:7
"The fear of the LORD is the beginning of knowledge: but fools despise wisdom and instruction. "
The witless ones mock science and wisdom. It is why they always have problems. They say why the tithe? You prefer to go grocery shopping and eat well with your girlfriend and then you go to the hospital for surgery.
Prov 9:9
"Give instruction to a wise man, and he will be yet wiser: teach a just man, and he will increase in learning."
Today is the feat of the harvest. We thank God who assembled us here. Among us there are those of Togo, the islands, Benin, Ivory-coast, Cameroun, France, London, everybody is here.
Deut 16:16-17
" Three times in a year shall all thy males appear before the LORD thy God in the place which he shall choose; in the feast of unleavened bread, and in the feast of weeks, and in the feast of tabernacles: and they shall not appear before the LORD empty:
Every man shall give as he is able, according to the blessing of the LORD thy God which he hath given thee. "
We won't show up before the Eternal empty handed, with only 5 cents because angels do not give blessings for 5 cents.
What did we bring to God today? He gave us rest, he defeated our enemies. He gave us peace. How are we to thank him today? Will you do it from the heart or for the Leaders in charge to see you? Will you do it for your own gain?
Prov 3:10
" So shall thy barns be filled with plenty, and thy presses shall burst out with new wine."
Those who give blank check,  and those who give promises but do not come back. Who do you cheat? One cannot cheat God. Let the Eternal have mercy on us. Let him give us his spirit, his blessing, his strength. Let the parish of St-Raphael grow, let his parishioners grow in happiness and peace. let the Eternal give the CCC peace and union. Let everyone be blessed. Let the world chief be blessed.
In the name of our Lord Jesus-Christ.
Amen.